Portable In-flight Entertainment Systems

Stream Movies, Music and Magazines In flight

Laptops, Phones and Tablets

Stream to any Mobile Device in flight with the AdonisOne™ IFE Systems

Moving Map System

Our portable inflight Entertainment Systems Include a Moving Map System
AdonisOne™ Portable in-flight entertainment system. The only IFE system that delivers media and a worldwide moving map system up to 500 passengers using one device!
Portable In-flight Entertainment System and Moving Map
The AdonisOne™ portable in-flight entertainment system delivers media and a worldwide moving map display directly to any smart personal device without the need for pre-installed apps or software. The content is delivered using our supplied in-cabin server and WiFi router built into an attractive all-in-one case. AdonisOne's portable in-flight entertainment system offers the ability to stream up-to-date content and a real time moving map system.
Key Benifits
No STC required
Very easy access for maintenance handling and repair
Cabin crew unburdened
Low initial investment for hardware
No certification required
Key Features
Passengers use their own devices
Minimal total system weight – 3 LB
Fast content loading processes via USB
Wireless content streaming of the highest standard
All of the AdonisOne portable in-flight entertainment systems include the following and can be customized to suit end users requirements.
Movies
Periodicals and Newspapers
Music
Custom Documents
Moving Map System
Learn More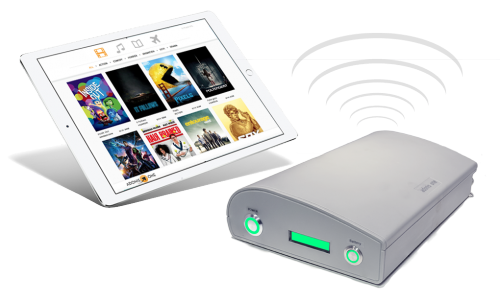 Customize your User Interface
The proprietary AdonisOne Portable in-flight entertainment system software utilizes Paradigm Tech's user interface that is completely customizable. The system has a secure admin system / CMS that allows for the following.
Import Movies
Import Music
Import Magazines
Import Newspapers
Import Custom Documents
Change Logo
Change Accent Colors
Add Custom Welcome Message
View System Analytical Data
Add an Intro Video
Push Custom Ads to Passengers
Add additional airports to the moving map system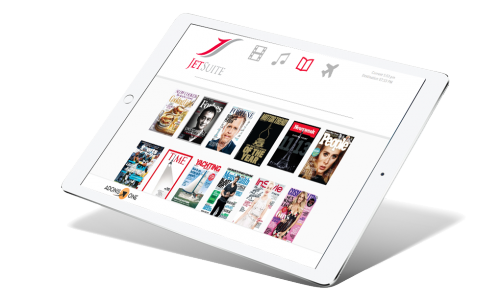 Substantial Cost Savings
Save hundreds of thousands of dollars over the cost of Rockwell Collins, GEE, Gogo and FDS in-flight entertainment systems.
Real-Time Moving Map System
The AdonisOne Portable in-flight entertainment systems come with a fully functioning moving map system utilizing GPS and GLONASS constellations. The system allows for IACO codes, ETA, ETE, altitude, airspeed and more.