Model LX IFE = $24,900
The AdonisOne™ LX Experience delivers media and a worldwide moving map display directly to any smart personal device without the need for pre-installed apps or software.  The content is delivered using our supplied in-cabin server and WiFi router built into an attractive all in one case. AdonisOne offers the ability to stream up-to-date content and a real time moving map.
Buy Now
Compare Systems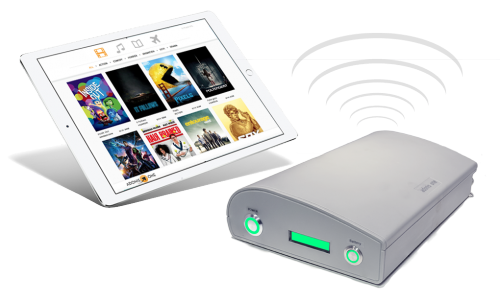 Media Content
Secure Client Side admin system / CMS, system to import 100s of Movies, 100s of Music Albums, 100s of Periodicals and Newspapers, 100s of Custom Documents.
Dimensions
10" x 6.5" x 2.5" Weight: 3.0 lbs
Passengers
Stream up to 20 users at once.
Moving Map System
Worldwide, real time Moving Map via built-in GPS antenna.
Power Management
ISO approved Li-ion battery pack, up to 10 hr. run time, 110v/220v power adapter and charger.
CPU & WiFi Specs
Intel Core i5 processor, 256GB M.2 SSD Hard Drive (expandable to 1TB), 8gb RAM 802.11b/g/n WiFi transmitter.
Support & Warranty
AdonisOne Life Time Warranty against all manufacture defects (battery pack included up to 36 months date of purchase). Level II Support services via phone, email & live chat 5 days a week and 1 business day turn around (after system is received) on all repair services.
Package Contents
AdonisOne LX IFE system includes 1 x AdonisOne LX system, 1 110vac / 220vac power charger, 1 suction cup mount GPS extension antenna, 1 x lightweight carrying case and IFE system user manual.