Model LX In-flight Entertainment System
The AdonisOne™ LX In-flight Entertainment System delivers media and a worldwide moving map display directly to any smart personal device without the need for pre-installed apps or software.  The content is delivered using our supplied in-cabin server and WiFi router built into an attractive all in one case. AdonisOne offers the ability to stream up-to-date content and a real time moving map. The Model LX offers streaming for up to 20 users, making it the best inflight entertainment option for light jets.
Buy Now
Compare Systems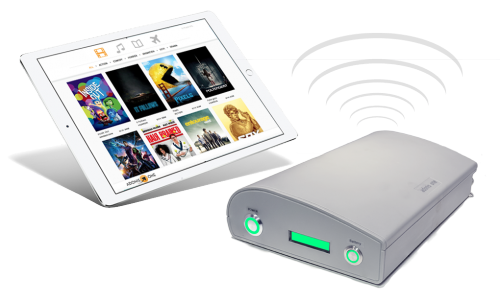 Media Content
The LX In-flight Entertainment System has a Secure Client Side admin system to import 100s of Movies, 100s of Music Albums, 100s of Periodicals and Newspapers, 100s of Custom Documents.
Dimensions
10" x 6.5" x 2.5" Weight: 3.0 lbs
Light Jet Passengers
Stream up to 20 users at once. If you require more, see our Adonisone XR Model
Moving Map System
Worldwide, real time Moving Map via built-in GPS antenna.
Power Management
ISO approved Li-ion battery pack, up to 10 hr. run time, 110v/220v power adapter and charger.
CPU & WiFi Specs
Intel Core i5 processor, 256GB M.2 SSD Hard Drive (expandable to 1TB), 8gb RAM 802.11b/g/n WiFi transmitter.
Support & Warranty
AdonisOne Life Time Warranty against all manufacture defects (battery pack included up to 36 months date of purchase). Level II Support services via phone, email & live chat 5 days a week and 1 business day turn around (after system is received) on all repair services.
Package Contents
AdonisOne LX IFE system is perfect for light jets and includes 1 x AdonisOne LX system, 1 110vac / 220vac power charger, 1 suction cup mount GPS extension antenna, 1 x lightweight carrying case and IFE system user manual.